Due to the bitterly cold high winds today I copped out of sitting on freezing  cold chairlifts and instead lounged in the sun on the Clic Clac reading Englanders & Huns by James Hawes so all very anti social 🙁
The ladies at Le Petit Four know me so well now that my Pain Nordique appears on the counter as soon as I walk in 🙂 I don't even get asked à couper le pain so totally minimum interaction except for lovely smiles all round.
Next stop was Carrefour were both I and the cashier were frustrated by the lady in front of me, one of the classic types who fumbled around for her money, surprised she had to pay and pack away her stuff.
I guess if I could speak French there would be more interaction but maybe not..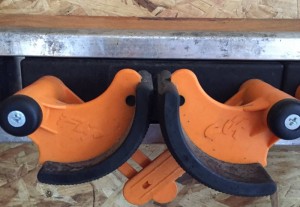 On the way back I called in to see Thierry & Baptiste some conversation in English of course but they were obviously busy.
Interestingly the cunning ski brackets they have he found in a skip! A man of my own heart, No indication as to their manufacturer except for an obtuse logo
I did manage one new interaction today – the local librarianm he was delighted to be offered 50 or so English novels from the apartments stockpile. Must start getting their names though 🙂
Posted from Les Gets, France